French Bulldog Puppies for Adoption…
Nationwide Shipping Available
---
Please read through our puppy policy before placing your NON-REFUNDABLE deposit! If you have any questions, Contact Us.
---
Peaches (left) & Knox's French Bulldog Puppies
Click image to enlarge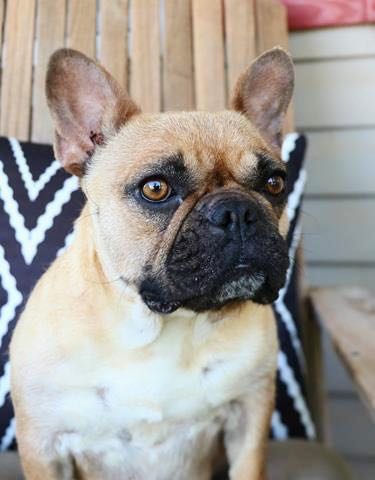 DOB: 09-01-23
Ready to go home: 10-27-23
---
About the French Bulldog
The French Bulldog first made its appearance from Europe to the U.S. in 1897. Due to its desirability as a lap dog and excellent companion the popularity of the breed has skyrocketed since it first arrived. So many of its traits make this breed an excellent indoor pet for families! They are charming, playful, intelligent, and they LOVE attention! In my opinion they make some of the best cuddle buddies known to man!
The French Bulldog is a very adaptable dog making them perfect for homes with ample room to roam and explore, but they are also very suitable for apartment life as well. They do not require a lot of exercise, as they are quite okay with a day full of napping. Of course, due to their natural level of curiosity, some activity or play is recommended and encouraged. A bored puppy in any breed never leads to a good outcome. So be sure to get to know your puppy and what his/her individual needs are here, as each puppy's personality will vary. The French Bulldog is a very social dog, they love almost everyone they meet, children and adults alike! Rarely do they ever meet a stranger, as they in fact, thrive on attention! Who could resist one walking down the street anyways? With those bat-like ears and perfectly smooshed round faces, they tend to attract a crowd!
Now, lets talk general care. Another great thing about well-bred French Bulldogs is that they require little upkeep in the grooming area other than regular bi-weekly bathing, ear cleaning and brushing. Depending on the exact structure of the face, and shortness of the snout, some routine wrinkle cleaning might be needed. The skin and hair coat is any area that can be greatly affected by nutrition, always feed a quality well balanced dog food (NEVER GRAIN FREE)! We are fans of Purina One, Bil Jac, and Royal Canin diets.
Environmental conditions are something you always need to be aware of with your French Bulldog! Due to that adorable short nose, they are not able to move air as efficiently as their longer nosed canine compadres. Which means they should NEVER be left unattended for long periods outside in hot weather! They do not have the ability to cool themselves well by panting, and overheating can be life threatening! Simply put, heat and humidity are not friends of the French Bulldog! When the weather is cool and pleasant, let them romp and run! Mine all get what we call, "the zoomies" where they run circles around the yard like miniature racehorses. These bursts of energy are always short lived, but it seems to do them some good, and of course is always entertaining to watch!
Toys are treats are fun to buy and who doesn't want to spoil their furry best friend? Your money will be best spent on toys made for heavy chewers. The French Bulldogs jaws are impressively strong and can easily tear apart flimsy poorly constructed toys. We are fans of Nylabone, Jolly balls and Kong toys. There are so many options and with online shopping, it's so easy to splurge on your newfound friend! Also, toys with a lot of stuffing other than ones made for heavy chewers will just become a mess of white fluff on your floor about 5 minutes after you give it to them. Not fun to pick up, I know from experience! Always stay away from anything raw hide! They are so unhealthy, and pieces can become lodged in the throat and become a choking hazard as it begins to swell and get slippery from your dog's saliva! There are so many options out there that are safer and healthier, spend your money on those!
Lastly, your French Bulldog puppy should have regular visits to your veterinarian throughout all life stages. If you are adopting a young puppy, there will be more vaccines needed to complete the series for protection from deadly viruses. Routine preventative care is a must! Better to prevent a problem than treat one I always say!
Thank you for taking time to read about our French Bulldogs! If you have questions related to anything mentioned or something else that wasn't covered, please feel free to Contact Us!
French Bulldog Puppies for sale in Fair Grove, Missouri